On behalf of the UP COVID-19 Pandemic Response Team, Dr. Alfredo Mahar Fancisco Lagmay, Executive Director of UPRI, presented the results of studies conducted by the team about the national situation regarding COVID-19 last April 21, 2020 at a Malacañang press briefing.
This press briefing, held after a consultation meeting among department heads and other experts with President Rodrigo Duterte, was meant to discuss possible steps the Philippines can take after the enhanced community quarantine ends on April 30, 2020. Presidential Spokesperson Harry Roque, reported on the possibility of extending the enhanced community quarantine (ECQ) in Luzon and the option to impose a modified community quarantine after April 30.
One of the points presented by Spokesperson Roque was that according to the study presented by Dr. Mahar Lagmay, COVID-19 cases will continue to decrease if the ECQ is extended beyond April 30. The question, however, is if Filipinos will be able to adapt to the economic and social implications of an ECQ extension. Dr. Lagmay was later given the floor to expound more on the results of the study conducted by the UP COVID-19 Pandemic Response Team.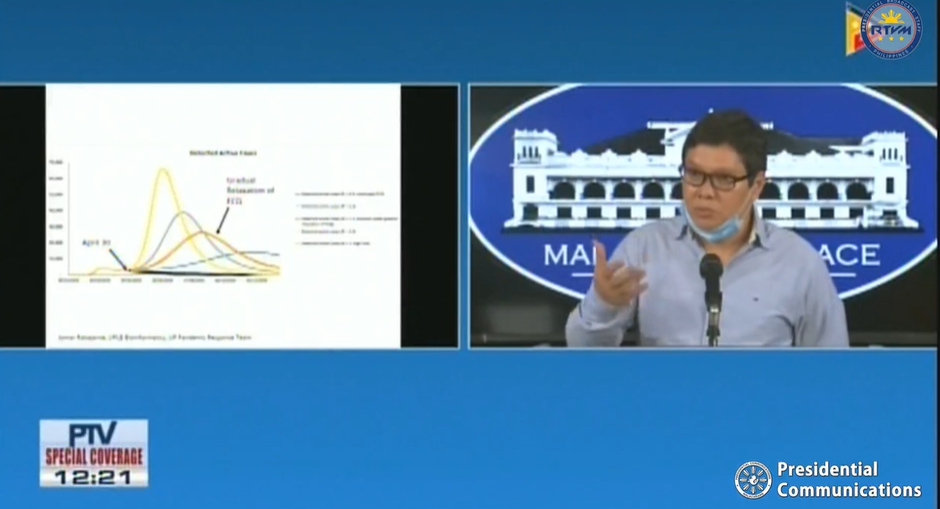 In his presentation which bore the title "Visualizing the COVID-19 Threat or Anticipatory Planning," Dr. Lagmay discussed several salient points.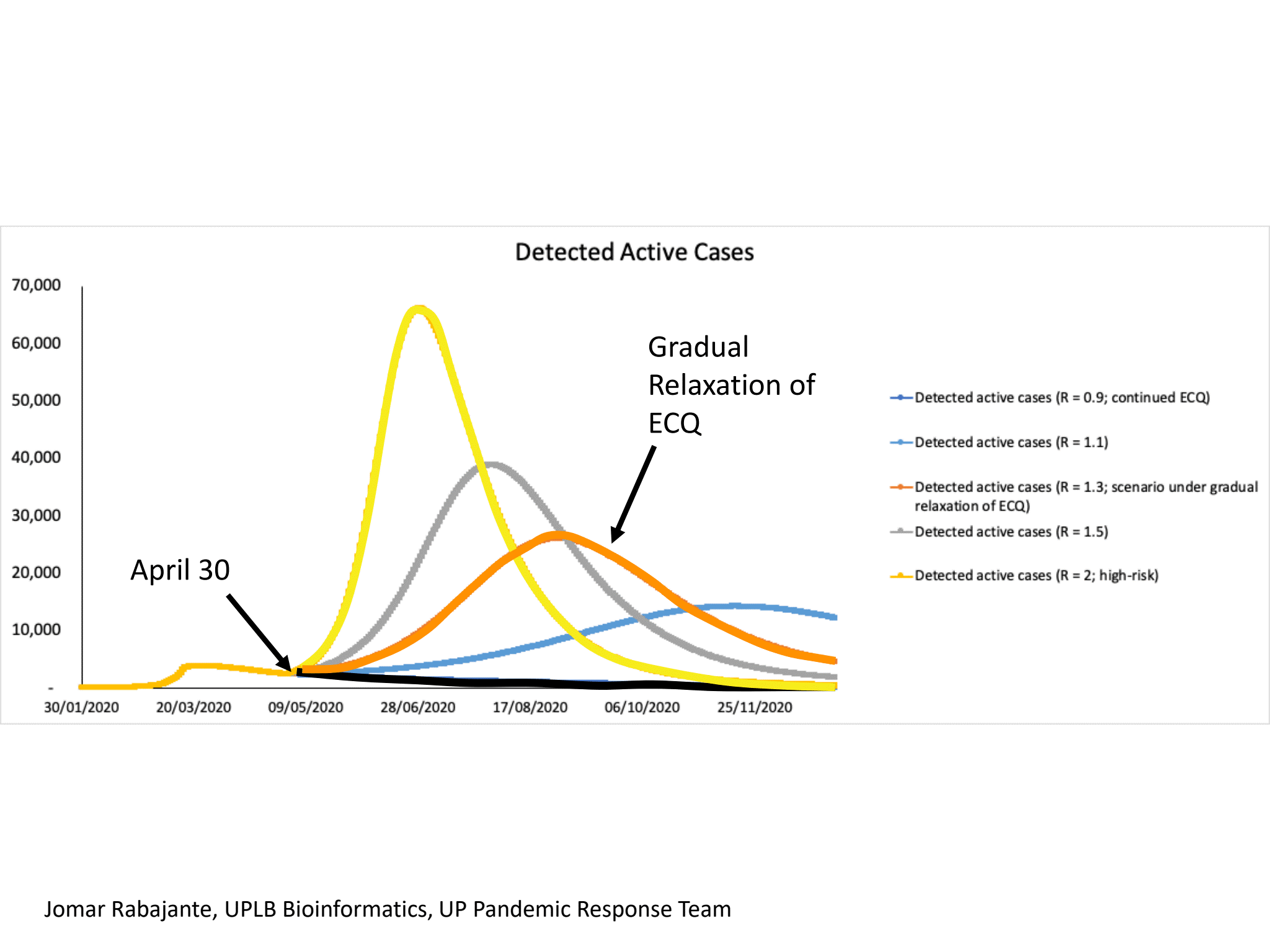 Upon consultation with modelers and epidemiologists, Dr. Lagmay reported that the ECQ has indeed been effective. As demonstrated by the yellow line in Figure 1, complete lifting of thr ECQ will cause a surge in COVID-19 cases, while continuous implementation will lead to containment, if not local eradication of the virus. As previously mentioned, however, a caveat lies on the capacity of affected Filipinos to cope with the social and economic implications of an ECQ extension. With this in mind, the goal then is to find a middle ground akin to a gradual relaxation of the ECQ where the spread of the virus is minimal and where health facilities are able to handle COVID-19 cases without much strain (orange line).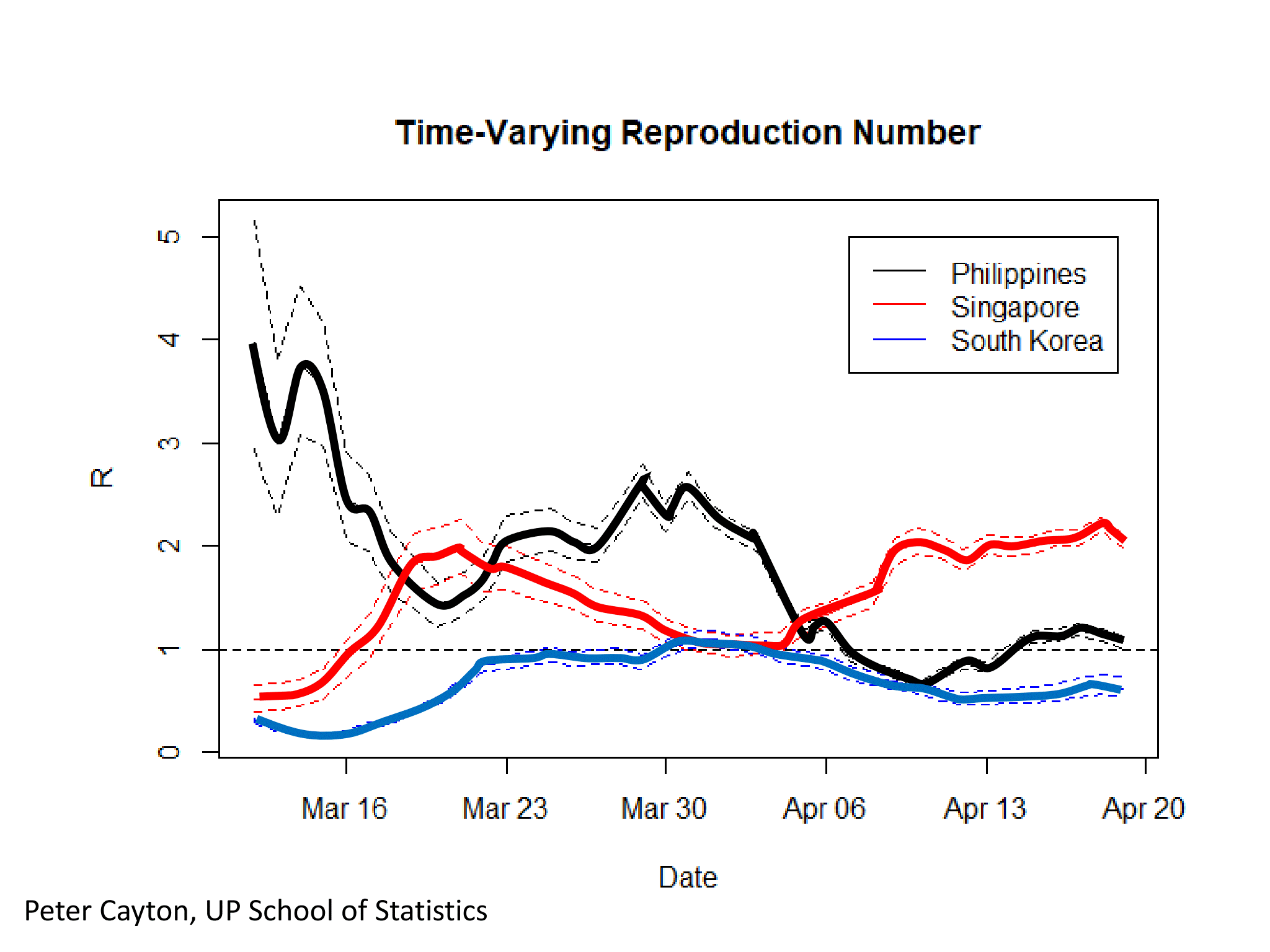 Dr. Lagmay also reported that in comparison with Singapore and South Korea, the Philippines is doing fairly well in terms of achieving the ideal reproduction number 1 of 1 partly due to the ECQ. He also emphasized the importance of achieving a reproduction number of 1 or lower because the spread of the virus is most manageable at these levels.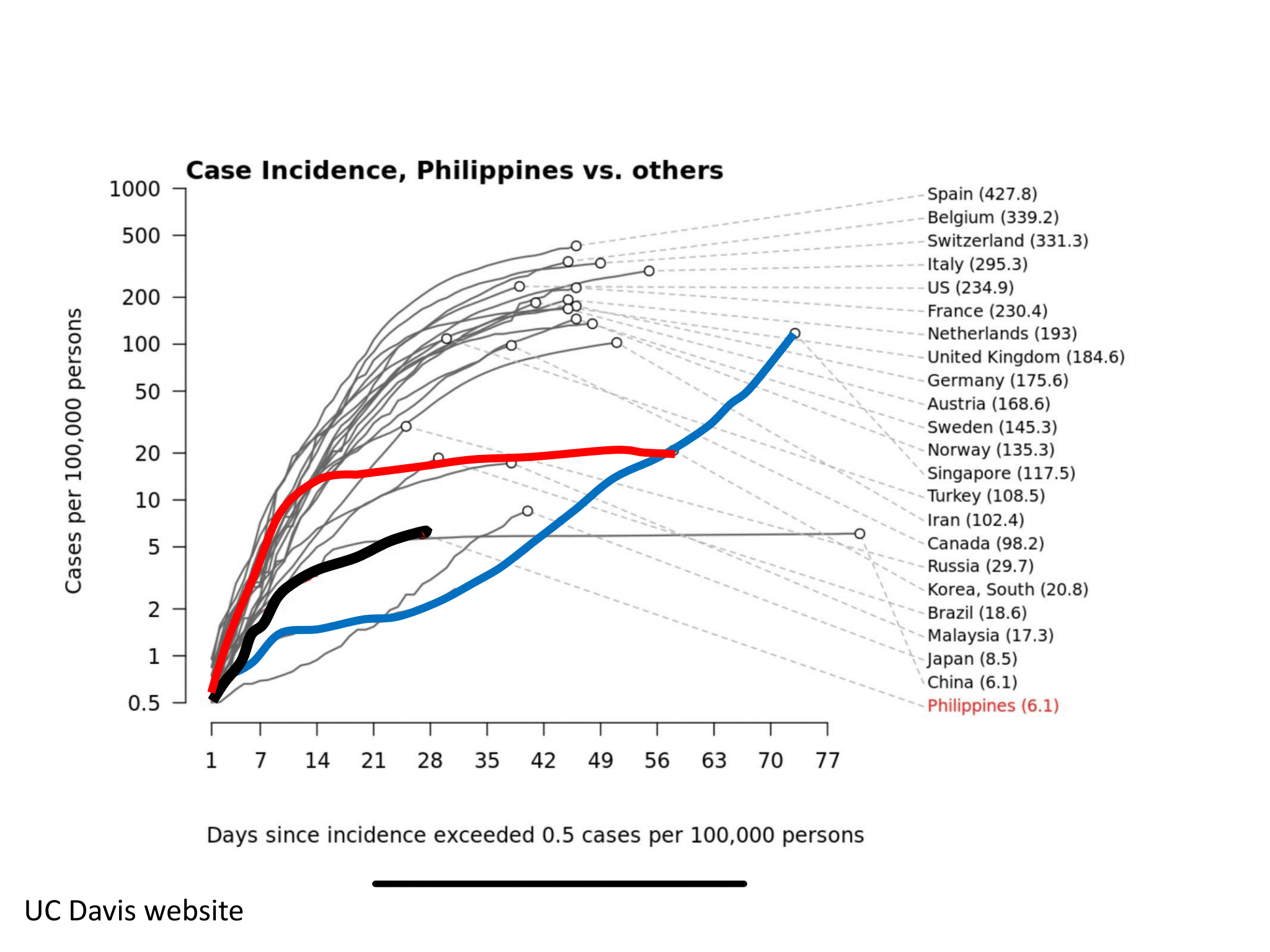 Based on the third slide, a comparative trend against other nations has been established because of the ECQ. While discussing this particular slide, Dr. Lagmay mentioned that sample sets may be used to get ideas about whether the ECQ has been effective.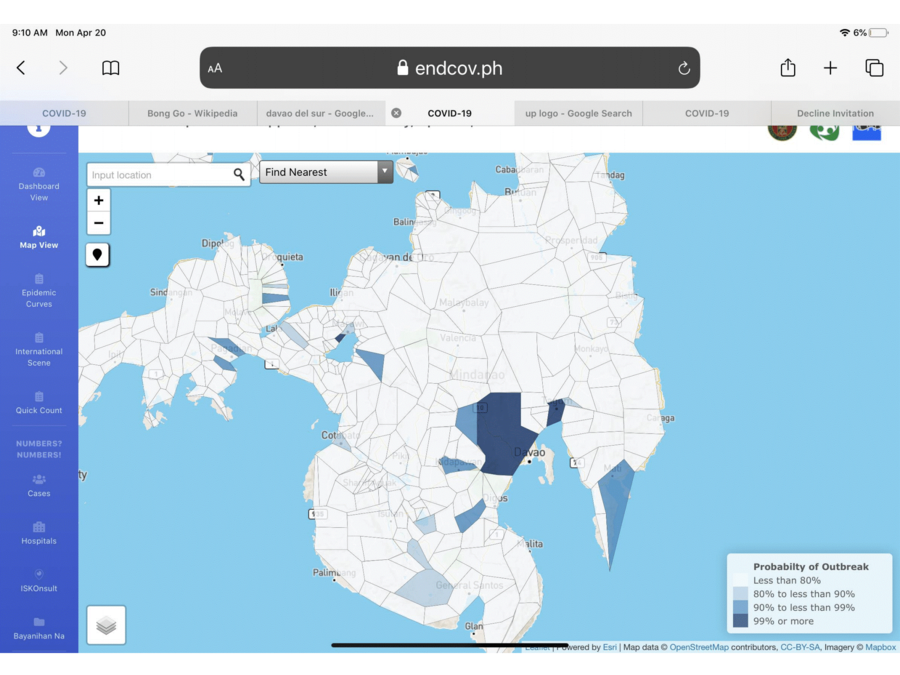 Meanwhile, Dr. Lagmay also reported that new methods are being explored to be able to perceive where the COVID-19 threat is most intense. This is because, when mapped, the number of COVID-19 cases and hence the intensity of its effects, vary with each location. Not every location is at its outbreak threshold like Metro Manila. Dr. Lagmay also mentioned that predicting where active cases will be most concentrated is crucial when deciding where most of the country's resources will be concentrated.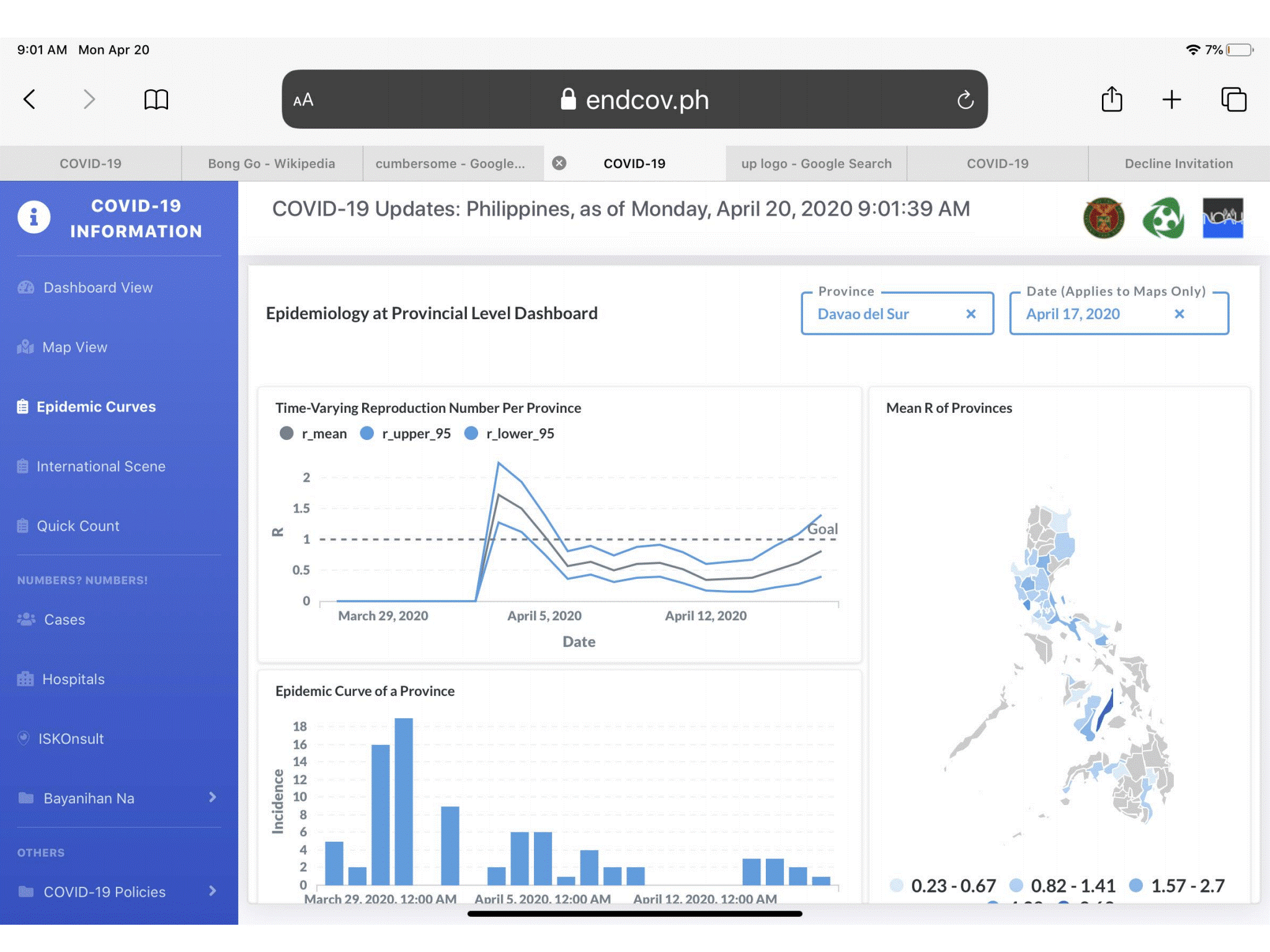 Provincial level information regarding reproduction number and epidemic curve may be viewed at endcov.ph. Dr. Lagmay reiterated that achieving a reproduction number of 1 and below is ideal because these levels imply adequacy in medical resources to address active COVID-19 cases.