UP Resilience Institute and UP NOAH Center activities. Delivered to students and Professors from Kansai University
On 24 August 2018, UP-NCPAG hosted the "Symposium on Institutional Perspectives on disaster Recovery: Lessons from Indonesia, Philippines, Thailand and ASEAN." Dr. Kristoffer Berse of UP RI and NCPAG presented the activities of UPRI and UP NOAH Center in his study "Minding the Gaps: Lessons in Disaster Recovery from the Philippines". Five other scholars presented their studies on disaster recovery initiatives and programs, including NCPAG Senior Lecturer Jose U. Tiusonco II, who also served as moderator.
Other resource speakers were Ms. Ansherina Talavera (CARE Philippines), Dr. Mampei Hayashi (Kansai University of International Studies), Ms. Gabrielle Iglesias (Independent Consultant) and Dr. Mizan Fuady Bisri (ASEAN AHA Centre Indonesia).
The activity was part of the NCPAG Lecture Series begun by the Center for Public Administration and Governance Education (CPAGE) in 2014. The Lecture Series aims to strengthen the College's tradition of scholarship and intellectual praxis through discussions on burning issues, trends and developments in Public Administration and Governance.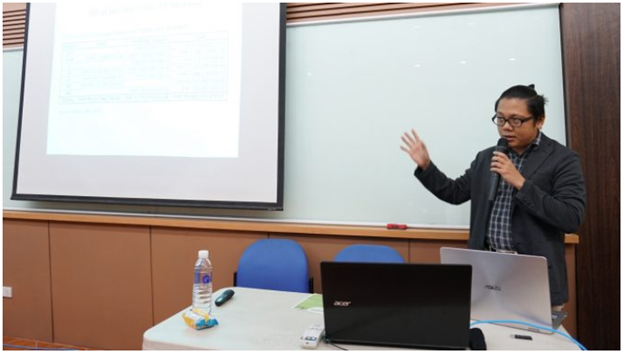 Dr. Berse presenting his study "Minding the Gaps: Lessons in Disaster Recovery from the Philippines"