The UP Resilience Institute, in partnership with the Earth Materials Science Concrete Petrography Laboratory of the National Institute of Geological Sciences, will be jointly undertaking the research project Effects of Extreme Weather Conditions on Coastal Concrete Structures in the Philippines beginning in April 2023. This project, funded by DOST-PCIEERD and in partnership with DPWH-BRS, PPA, and ASEP, will investigate concrete composition and coastal conditions in various ports around the Philippines to determine the ideal concrete cover to ensure the resilience of our port structures to extreme weather conditions as well as projected changes in coastal environmental conditions in the coming decades.
The Philippines, being an archipelagic state with a coastline of 18,000 km relies heavily on maritime activities to ensure sustainable economic development. As such, exposure to coastal hazards must be mitigated to avoid economic disruption and loss of life. To ensure the safety of communities and continuity of economic activities, the country depends heavily on the integrity of coastal concrete structures such as ports and seawalls. This research project aims to assess concrete structures exposed to the effects of extreme weather conditions by conducting conventional physical concrete tests complemented with Concrete Petrography, which allows for the microscopic examination of overall quality of concrete and possible presence of various deterioration phases. Additionally, the project seeks to investigate one of the major problems encountered by coastal concrete structures: the corrosion of underlying steel reinforcement. Through the project, possible recommendations on the appropriate concrete cover thickness will be formulated based on the conducted tests, taking into consideration the different microclimates present in the country as well as projected changes in CO2 and salinity in coastal environments in the coming decades.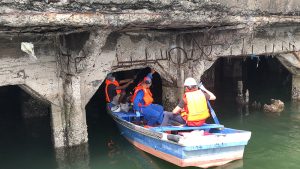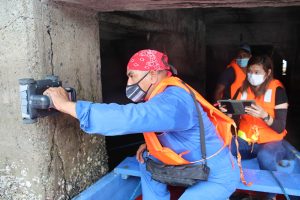 Building on the pioneering work in Philippine Concrete Petrography by the EMS-CP lab, the UP Resilience Institute and its UPRI Fellows will be integrating our specializations in Disaster Risk Reduction, extreme weather conditions, climate change adaptation, and coastal hazards to, together, provide our stakeholders and beneficiaries in the ports, maritime, and construction industry with vital recommendations for ensuring the resiliency of our port structures and environments in the present and into the future.