2013 FutureGov Award for Best Mobile App – Project NOAH Mobile Application (April 2013)
The mobile application for the Nationwide Operational Assessment of Hazards (NOAH) won the nod of FutureGov, Asia-Pacific's longest running and multi-awarded magazine for government, healthcare, and education.
For making public information on weather conditions and disaster information available to the public, the Project NOAH mobile application won the Best Mobile App on the FutureGov Awards 2013, held in the New World Hotel, Makati City last April 11, 2013.
"When it comes to accessing real-time information, there is nothing more ubiquitous than a mobile phone. In the wake of natural calamities, new ways of using mobile devices has paved the way for governments and communities to streamline and improve their search and rescue and disaster prevention efforts," James Smith, managing editor of FutureGov magazine and chairman of the judging panel said, in an article published on their website.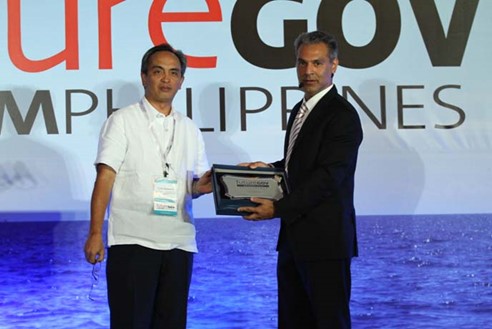 Department of Science and Technology (DOST) Undersecretary Louis Napoleon Casambre, head of the Information and Communications Technology Office (ICTO), received the award for Project NOAH and ICTO's TV White space, which also won the Technology Leadership Award.
This year's FutureGov Awards Philippines are an offshoot of the longstanding FutureGov Awards, which for over seven years have recognized instances of successful modernization in government, education and healthcare from across the region. Other recipients of FutureGov Awards include the Department of Budget and Management as Government Organization of the Year, Juan Evangelista of Government Service Insurance System (GSIS) as CIO of the Year, Revenue Administration Reform Project of Bureau of Internal Revenue for Service Innovation, Personally Controlled Health Records of Philippine Health Insurance Corporation for E-Government, Philippine Geoportal of National Mapping Agency for Information Management, Department of National Defense for Information Security and Makati City Hall for Data Center.