13th Gawad Parangal Awards – Most Outstanding Organizations/ Institutions for DOST Project NOAH (October 2015)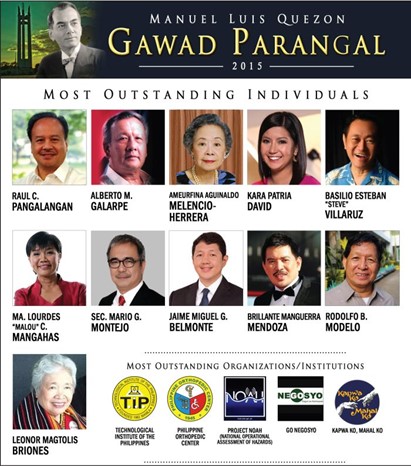 Eleven individuals and 5 institutions received this year's Gawad Parangal Awards as Quezon City continues with its tradition of honoring outstanding individuals and institutions that have made achievements that inspire and exert a positive impact on society. The award recognizes exemplary, responsible partners in building the city and the country whose standards of service and performance are largely unsurpassed.
Now on its 13th year, the prestigious award, which is now officially called the Quezon City Manuel L. Quezon Gawad Parangal, pursues the tradition of accomplishment and excellence first exemplified by Manuel L. Quezon when he envisioned and created the city. The Manuel L. Quezon Gawad Parangal is the QC Government's way of extending its gratitude to the exceptional individuals and institutions so their good examples may flourish.
The event was held at the SMART Araneta Coliseum on October 19, 2015.
The awardees have varied interests and passions and cover multiple areas – from governance; social work and community development; media, entertainment and cinema; arts, culture and literature; medicine, science and technology; to business, humanitarian works, education, sports and the judiciary. Their contributions are just as diverse.