2015 ASEAN ICT Awards – Corporate Social Responsibility Category (November 2015)
Arko, the award-winning flood-and-extreme-weather monitoring mobile application of Pointwest Technologies Corporation, added another feather to its cap after it took home the Silver Prize in the Corporate Social Responsibility category of the 2015 ASEAN ICT Awards.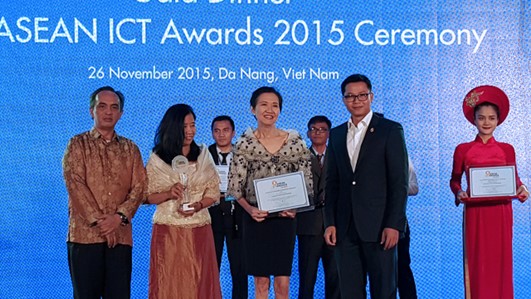 The event was held last 26 November 2015 at the Convention Center of Furuma Resort of Da Nang, Vietnam, and graced by the different ministers of ASEAN countries who attended the closing ceremony of the 15th ASEAN TELMIN and Related Meetings in Vietnam. Awardees received their trophies and Plaques of Recognition from a pair of ministers from ASEAN member nations.
The app was originally designed for use by the Nationwide Operational Assessment of Hazards (NOAH) project of the Department of Science and Technology (DOST). Project NOAH includes Arko in a suite of weather and hazard monitoring software that helps local government units assess and plan for natural disasters. Arko was developed by Pointwest's Mobile Team as a response to the increasingly-powerful storms and sudden downpours that are the "new normal" for the Philippines in an era of climate change. It overlays historical flood data on Google Maps, allowing users to assess if reported rainfall in specific monitored areas is, or will be, under threat of heavy flooding. Arko also provides storm tracking, showing all active storm systems within the Philippine Area of Responsibility.
Pointwest is one of the leading 100% Filipino-owned IT-BPM companies of the Philippines. Since its founding in 2003, Pointwest has provided world-class IT services to companies, organizations and government agencies both here and abroad. Among its clients are top Fortune 500 companies and notable companies in the Asia Pacific region.