Harnessing Data for Resilience Recognition Award (May 2016)
After being one of the five finalists, Project NOAH takes home the Harnessing Data for Resilience Recognition Award from the Harnessing the Data Revolution for Resilience Summit in Bangkok, Thailand sponsored by USAID.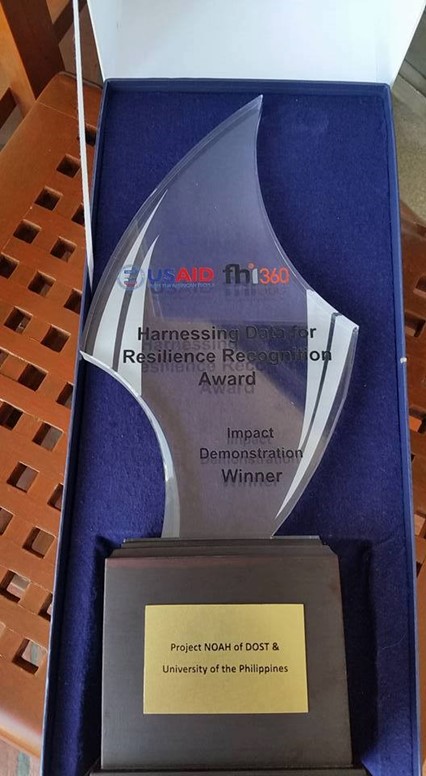 NOAH competed with over 70 international organizations for the award. The Impact Demonstration category for the award is for organizations that have deployed solutions which have had a significant impact on their audience. The other four finalists were aWhere from the United States, Sweetsense which operates in Africa, Nexleaf Analytics for its projects in Rural India, and 700-Daloy, another Filipino innovation that focuses on marine environmental protection. During the Summit, each of the finalists made a pitch to the audience about their product/service/project and why it is an impactful example of using data to enhance resilience. The audience then had an opportunity to ask questions and vote on their favorite. The pitch with the most votes was declared the winner of the category.
The summit brought together hundreds of experts to discuss harnessing the power of digital data to transform the design, implementation, and monitoring of international development programs to support resilience capacities at various scales. It is sponsored by USAID/RDMA and FHI 360 (through the mSTAR project). The Summit is part of the RDMA Frontiers Learning Series, a set of events focused on exploring emerging opportunities at the intersection of science, technology, innovation, partnerships, and international development.
The United States Agency for International Development (USAID) is the United States Government agency which is primarily responsible for administering civilian foreign aid. It is the lead U.S. Government agency that works to end extreme global poverty and enable resilient, democratic societies to realize their potential. In order to support these goals, President John F. Kennedy created the United States Agency for International Development by executive order in 1961. FHI 360 is a nonprofit human development organization dedicated to improving lives in lasting ways by advancing integrated, locally driven solutions. Our staff includes experts in health, education, nutrition, environment, economic development, civil society, gender, youth, research and technology — creating a unique mix of capabilities to address today's interrelated development challenges. FHI 360 serves more than 70 countries and all U.S. states and territories.