A Basic Course in Urban and Regional Planning (SCURP: ABC in URP)
Researchers and scientists of UP Resilience Institute, under the office of the President, joined the 13th to 15th Special Course on Urban and Regional Planning: A Basic Course in Urban and Regional Planning (SCURP: ABC in URP) of the School of Urban and Regional Planning (SURP) as lecturers last April 16–20, July 23–27 and December 3–7, 2018 at the SURP Building in UP Diliman—taking into full execution a part of UP RI's 15-point agenda of "Cascading of knowledge on climate change adaptation and disaster risk and vulnerability."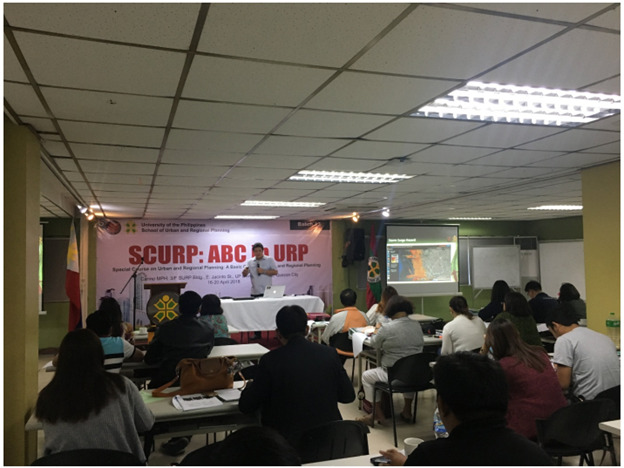 Dr. Lagmay explaining the importance of probabilistic risk assessment in planning.
The SCURP: ABC in URP program is an orientation-cum-introductory course on the basic concepts, processes and methodologies of urban and regional planning. It also includes lecture on the Philippine Planning System, Population and Social Development, Local Economic Development, Estate Planning and Management, Public Works Planning, Transport Planning and Traffic Management, Environmental and Natural Resources Management, Public Private Partnership, Climate Change Adaptation and Disaster Risk Reduction and Management Concepts and Strategies, Strategic Environmental Assessment, Smart Growth/Green Urbanism, among other.
The UPRI shared its knowledge on Climate Change Adaptation, Disaster Risk Reduction, and Geographic Information System.

According to Dr. Lagmay, Climate Change Adaptation and Disaster Risk Reduction
Management require inter-disciplinary, multi-disciplinary, and transdisciplinary approach.
In Dr. Lagmay's lecture on "Climate Change Adaptation: Concepts and Strategies," he clarified the difference between the existence of hazards and facing a disaster. He also emphasized the value of climate change adaptation and its impact in planning and how it affects the tools used in presenting and communicating impending disaster risks.
The second lecture, on the other hand, was about "Disaster Risk Reduction: Concepts and Strategies." Ms. Joy Santiago shared the history of DRR in the Philippines and the different laws that empowered it. Ms. Santiago also equipped the participants with knowledge on the various risk management options. She further explained what constitutes a disaster and the disaster management cycle.
Ms. Joy Santiago also spoke about the relationship between disaster risk reduction and the creation of land use plans, the four pillars of the mitigating plan and even the role that the UP Resilience Institute and UP NOAH Center play in serving the LGUs in fostering a more resilient Philippines.
The lecture on the Geographic Information System introduces basic geographical concepts and fundamental features of spatial analysis.
The three batches trained more than 100 professionals from various field, including but not limited to, economics, social sciences, finance, urban development, management, engineering, environmental planning, architecture, forestry, Geographic Information System, arts and humanities, and estate planning. The training is designed to enhance capabilities of the functionaries of national agencies, local government units and professionals who are involved in planning-related activities.
In addition, the course also caters to individuals who wish to pursue graduate education and/or career in planning. A number of our SCURP alumni had formally enrolled in our graduate programs and many successfully passed the licensure examinations for Environmental Planners.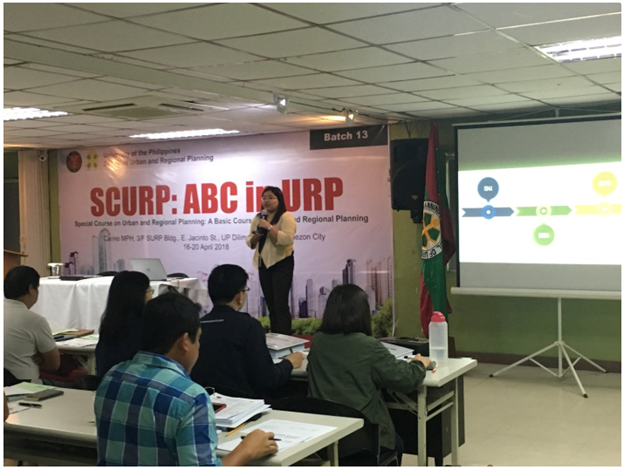 Environmental Planner Ms. Joy Santiago discussing the history of Geographic Information System and its evolution.