Pista ng Mapa 2021
Members of the UPRI YouthMappers participated in Pista ng Mapa 2021 last November 13, 16, and 20, 2021. Pista ng Mapa (Festival of Maps) is the pioneer and premier free (as to cost and as in freedom) and open conference in the Philippines made for and by people who have a passion for open mapping, open data, and open source. It is an outreach activity to generate public interest, advocate and advance the use of open (geo) data, promote free and open source software for geospatial (FOSS4G), and support local open mapping communities around the Philippines.
Since the first Pista in 2019, it has brought together countless participants from different backgrounds to celebrate open source, open data, and open geospatial and has inspired new members to join, help, or start their communities.
It is an event run wholly by volunteers and advocates from the local OpenStreetMap, OSGeo/FOSS4G, and other map-py communities. OpenStreetMap, OSGeo/FOSS4G, and other map-py communities. Some of the UPRI members also helped in organizing the event.
UPRI – NOAH team members Jadurani Davalos, Feye Andal, and Patricia Delmendo did presentations related to their work on the revamped NOAH website, Filipino YouthMappers, and COVID-19 mapping in NCR.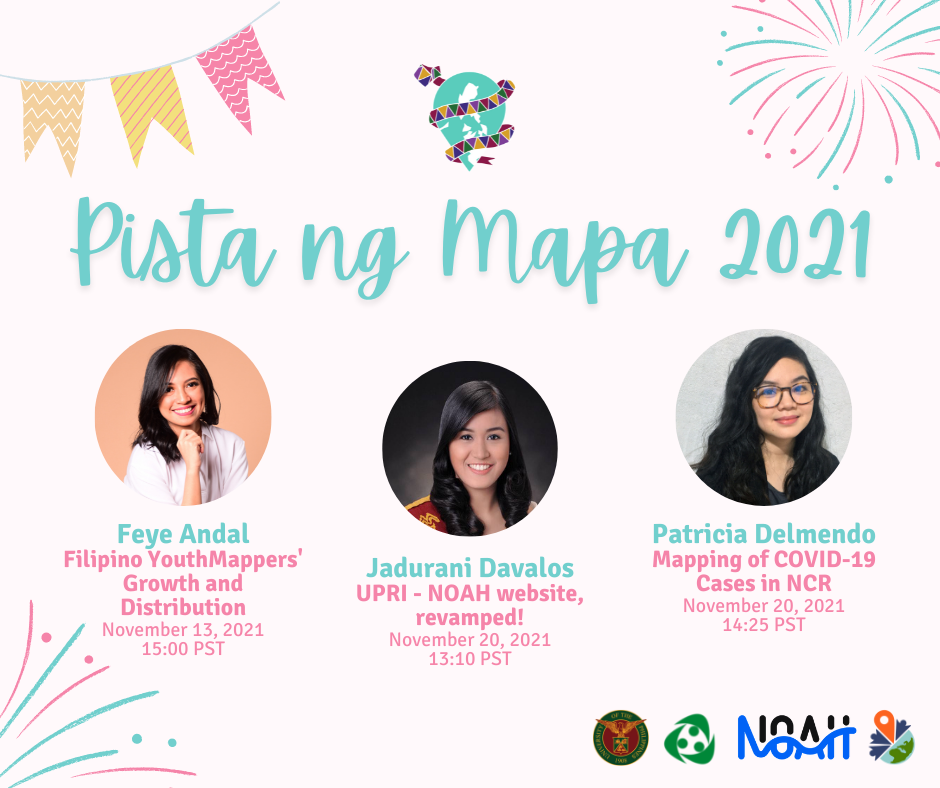 UPRI YouthMappers' President, Arvin Jake Adovo won 1st place at Pista ng Mapa 2021 Mapa para sa Lahat for his work "Philippines at Night: Erasure Through Light and Dark". He also presented his work in a lightning talk on the 3rd day of the conference.