In recognition of the UP Resilience Institute (UPRI) as a valuable partner in youth-oriented programs and activities related to disaster preparedness and climate adaptation, the National Youth Commission (NYC) extended an invitation to the Philippine Youth Development Plan Sub-task Force Meeting on Environment on 21 June 2023 at the NYC Central Office in Quezon City.
The meeting was attended by representatives from key institutions and organizations – Department of Education (DepEd), Department of Environment and Natural Resources (DENR), Climate Change Commission (CCC), Commission on Human Rights (CHR), Department of Labor and Employment (DOLE), Technical Education and Skills Development Authority (TESDA), National Anti-Poverty Commission (NAPC), Youth and Students Sector, and Youth for Just Transition (Y4JT). ASec. Alexa Danielle Dayanghirang of the NYC, lead of the Sub-task Force on Environment, presided the meeting. Ms. Lea Victoria Serrano and Ms. Monica May Mendoza represented the UPRI.
During the meeting, the participants discussed the highlights of the Philippine Youth Development Plan (PYDP) for 2023–2028, with a specific focus on environment, disaster management, and climate change adaptation. They also addressed the outcomes of the youth stakeholders' consultation and workshop, as well as the proposed executive order and youth policy agenda for 2023 and 2024. The representatives of the organizations were also consulted on the PYDP Results Matrix and Monitoring & Evaluation (M&E) Scheme.
Youth representatives from the Y4JT and NAPC Youth and Students Sector also shared their inputs and insights on how they see a sound policy on environment and climate change adaptation for the youth.
Furthermore, the meeting covered the Terms of Reference for the Interagency/External Task Force, which would be made up of the organizations that took part in the meeting, to ensure multi-stakeholder engagement in support of the youth's environment-centered agenda.
The PYDP aligns with the United Nations' sustainable development goals (SDGs) and Ambisyon Natin 2040, which represents the overall Philippine Development Plan. As an institution devoted to disaster and climate resilience, the UPRI recognizes the youth as an invaluable force in working towards a safe and sustainable society.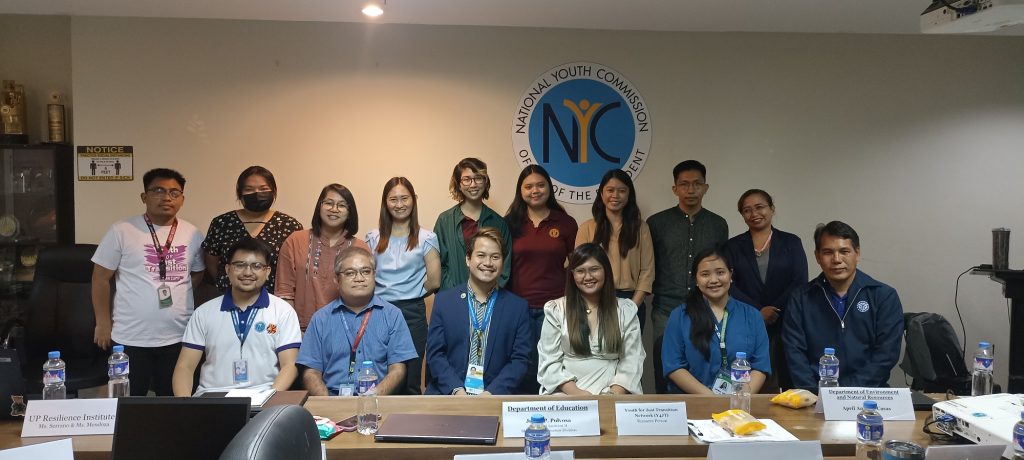 Posted by UP Resilience Institute Education on August 9, 2023