At the 1,378th University of the Philippines Board Of Regents meeting, the proposal for the Mindanao Center for Disease Watch and Analytics (DiWA) was approved. The DiWA Center will serve as the main hub of health resiliency for the UP Resilience Institute (UPRI) in Mindanao supported by the same vision of resiliency but emphasizing on addressing the health-related pressing issues. The hope of the DiWA Center is to provide engagement with public health governance via knowledge generation, sharing services, and technological innovation in order strengthen the resilience of communities not just in Mindanao but throughout the whole country.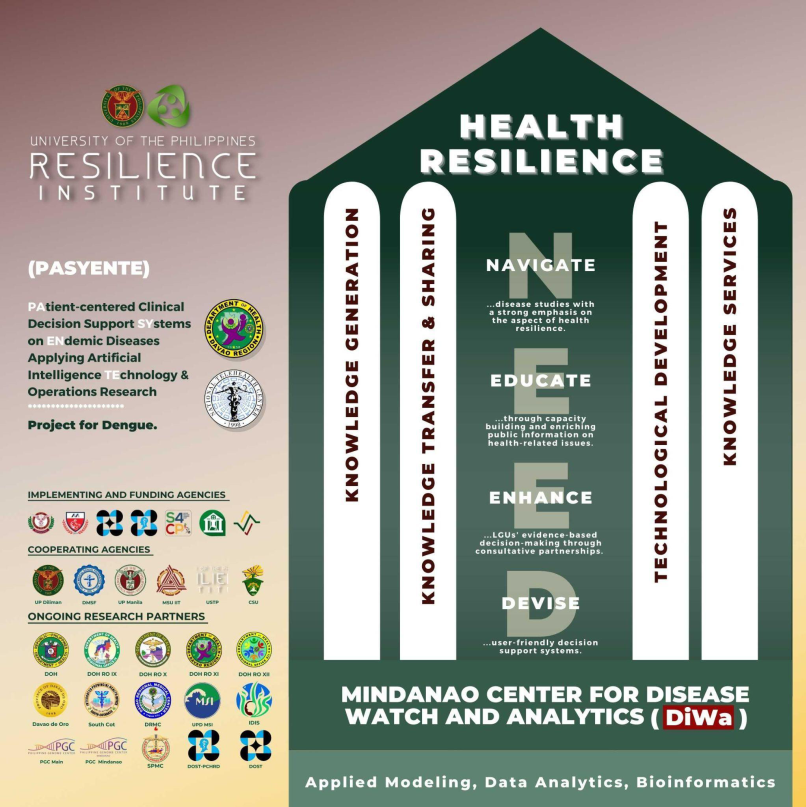 The DiWA center, an active member of the UP Pandemic Response Team, is a rebranding of the Applied Modeling, Data Analytics, and Bioinformatics for Decision Support Systems in Health (AMDABiDSS – Health), a center founded with the intent to study and contextualize the COVID-19 pandemic. The change to DiWA is intended to allow one to quickly glean the meaning and purpose of the institution from their name alone. In addition to the change in name, DiWA will receive stronger support and closer ties with the UP system through the UPRI.
The DiWA center is aligned with the mission statement of the UPRI, to have a wider reach and improve the capability of the UP System as an agent of change for disaster resilience in the Philippines, specifically in disease watch. The UPRI – Mindanao Center for Disease Watch and Analytics (DiWA) is envisioned to be a leading research center providing a transdisciplinary-based decision support system for health issues relevant in the Philippines and by 2030 in the Southeast Asian region.