On 23 September 2023 (Saturday), two Low Pressure Areas inside the Philippine Area of Responsibility brought about scattered rain showers and thunderstorms in the country, including Metro Manila. With the continuous heavy rainfall during the day, some barangays and roads in Quezon City were submerged in flood waters. In a pioneering effort by the QC Local Government to improve urban disaster management, IoT-based sensors were utilized to monitor real-time ground conditions.
Read more: NOAH introduces Internet of Things System in partnership with Quezon City Government – UP Resilience Institute
Brgy. Central
East Ave. (In front of NKTI)
Data from the sensor revealed that the maximum flood depth in front of NKTI occurred at 1:16 p.m. with a level of 0.17 m or about gutter-deep. The flooding subsided after about an hour. A video taken by a social media user shows the gutter-deep flooding at the sensor location.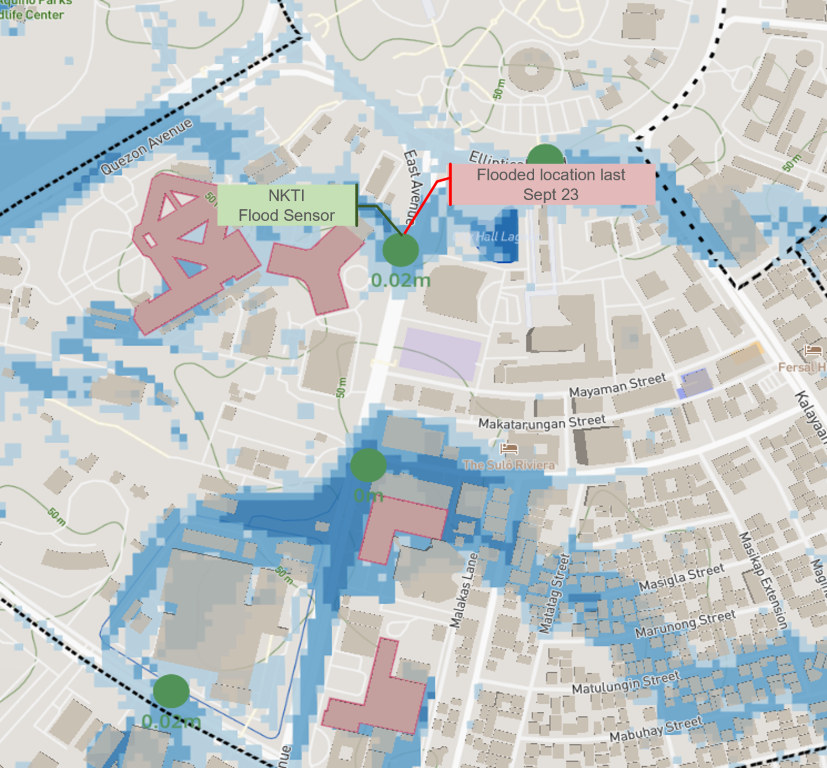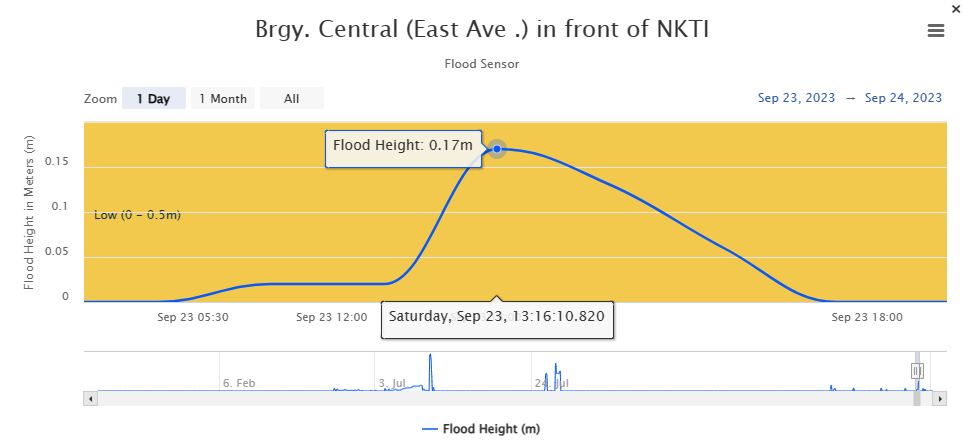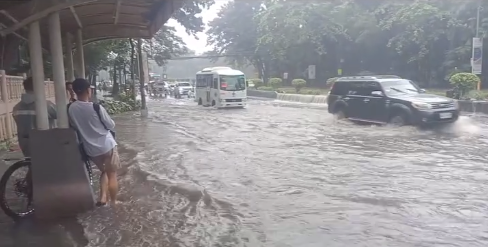 Elliptical Road (In front of City Hall)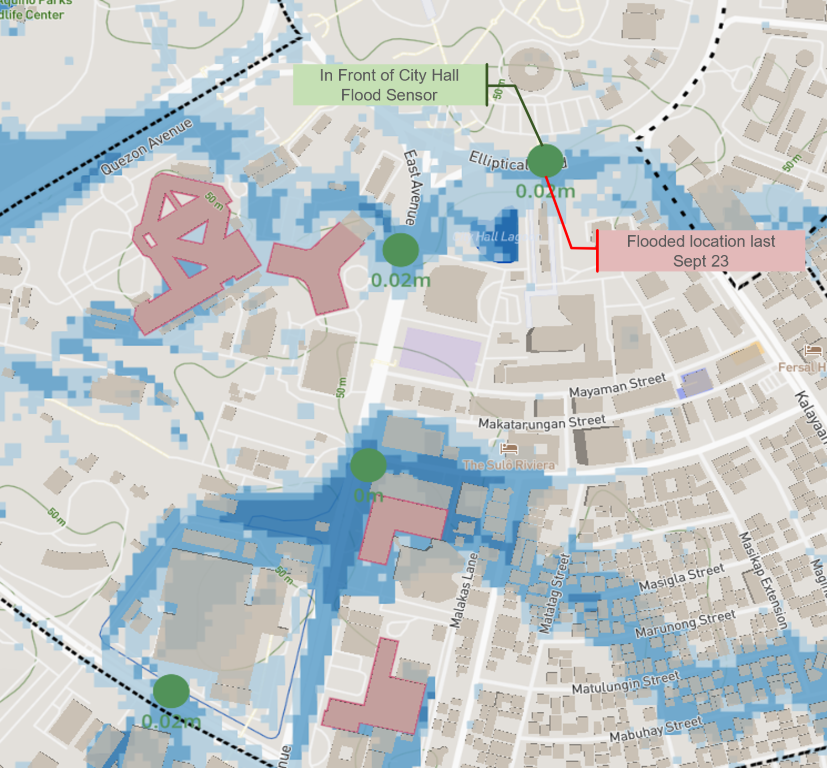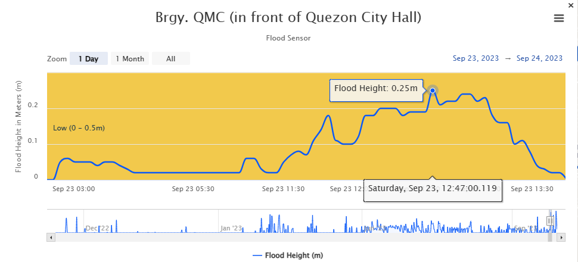 Based on the sensor data, there was a significant rise in flood waters starting at around 11:30 a.m. This trend continued until 12:47 p.m. at which the maximum flood height of 0.25 m or about gutter-deep was recorded by the flood sensor. The water level slowly decreased until it completely subsided at 1:52 p.m. This flooding event can be observed in the video taken by another social media user shown below.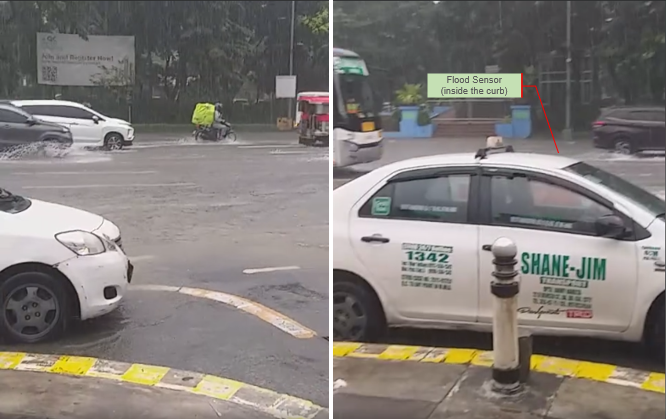 Camp Aguinaldo
One of the IoT-based rainfall sensors was installed at Camp Emilio Aguinaldo High School. This sensor captured the local heavy rainfall event which contributed to the knee-deep flooding and traffic blockage in front of Camp Aguinaldo Gate 3, along Epifanio Delos Santos Avenue (EDSA). The total accumulated rainfall in 24 hrs was measured to be 190.7 mm and the 1-hour accumulated rainfall peaked at 12:43 p.m. with a value of 57.6 mm.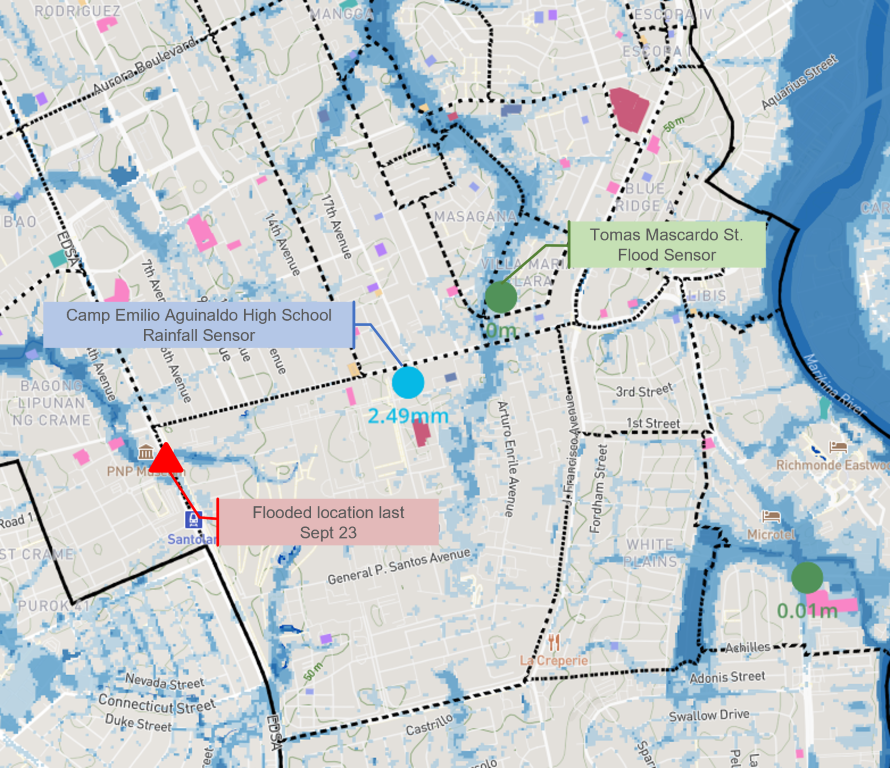 With the advances in technology, local authorities can leverage the collected data to make data-driven decisions and to provide an early and systematic response to the affected communities. The citizens will also be empowered with the knowledge of the current situation in their community by the publicly accessible data through the NOAH Website. Knowing the hazards in their community helps in building resilience and reducing the possible adverse effects of the hazards.