The UP Resilience Institute, represented by Mr. Richard L. Ybañez, Chief Science Research Specialist of the Education Division, served as resource speaker during the TalkPoints Webinar hosted by the Development Academy of the Philippines (DAP) last September 6, 2023. The webinar featured common disaster management challenges faced by the Local Government Units (LGUs) and how Information and Communication Technology (ICT) has helped address, or at least alleviate, these problems.
Mr. Ybañez emphasized that the adoption of ICT platforms empowers the LGU and the general public in disaster preparedness and mitigation, and that the academe like the UPRI, among others, remains as the LGUs' partners in bolstering disaster preparedness, response, and recovery efforts. He added that there are many issues, however, in adopting ICT solutions in DRRM.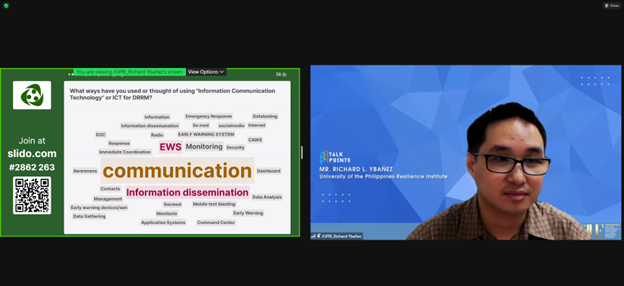 Recognizing that some of the LGUs in the Philippines confront significant logistical challenges for the deployment of internet infrastructure and operate under budget constraints, Mr. Ybañez also talked about the difficulty and the importance of having fast and reliable internet and other technologies for efficient communication, monitoring, and data-sharing.
The session last September 6 entitled "Building a Digital Defense: ICT Strategies for a Disaster Resilient LGU" as part of the DAP's TalkPoints webinar series was attended by more than 250 local chief executives, key functionaries, and technical staff of LGUs across the Philippines. It delved into the role of ICT in disaster management of LGUs and aims to provide a platform to exchange insights into unique disaster challenges and DRR initiatives.
Aside from Mr. Ybañez, representatives from the Department of Information and Communications Technology, Department of Science and Technology and the LGUs of the Science City of Muñoz and Carmona City also talked about their various initiatives and programs that integrated ICT in the name of disaster risk reduction and management.
All five speakers answered questions regarding the utilization, augmentation, and implementation of ICT-driven disaster management initiatives from the participants in the last part of the session.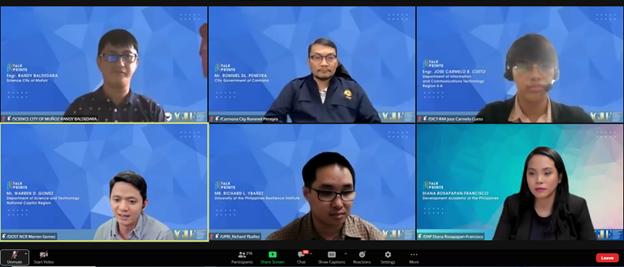 The said webinar series is a subcomponent of the Adaptive Governance and Innovation for Local Executives (AGILE) Program spearheaded by the Office of Senator Francis Tolentino in partnership with the Development Academy of the Philippines. It started its run last year and is expected to hold more sessions to tackle other sociopolitical and governmental issues.
"Let us not be complacent. We should not rest on our knowledge. Ang mahalaga po ay maipagpatuloy natin ang ating edukasyon. Paglinangin ang ating kakayahan at magpursige sa walang humpay na pag-aaral patungo sa ating kadalubhasaan. TalkPoints offers us this chance to build a relevant network that will usher us into the path of lifelong learning for leaders to become effective," said Sen. Tolentino in his welcome message to the participants.
Posted by UP Resilience Institute Education on September 22, 2023