By: Ella Santiaguel and Ella Sandoval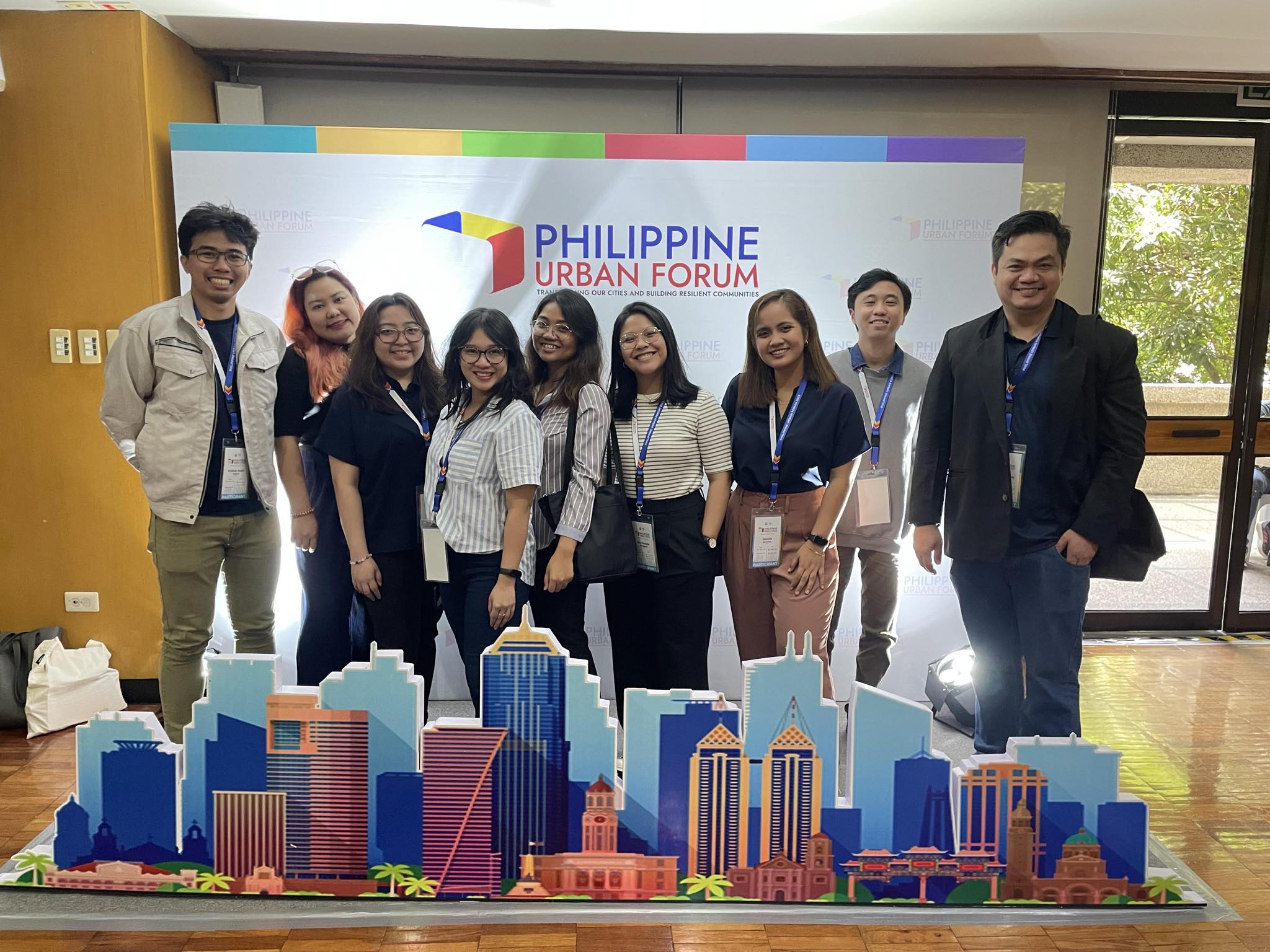 UP RI – NOAH Center Planning Component participants from the left to right: Kristian Audri Gabriel, Marie Claire Mandar, Rysch Nae Subijano, April Dawn Tegelan, Arge Louise Joy Esquivel, Ella Santiaguel, Janiella Sandoval, Ric Christian Tolero, and Geoel Anthony Esguerra
From October 5-6, 2023, representatives from UP Resilience Institute (UP RI) – Nationwide Operational Assessment of Hazards (NOAH) Center Planning Component attended the first-ever Philippine Urban Forum (PhUF) at the Philippine International Convention Center (PICC) in Pasay City. PhUF 2023 was spearheaded by the Department of Human Settlements and Urban Development (DHSUD) and United Nations (UN) – Habitat Philippines.
The forum served as a venue and platform for knowledge exchange, policy dialogues, and sectoral partnerships and collaboration among various urban actors and specialists to advocate for sustainable urbanization and environmental planning in the country. The design of the forum revolved around the six thematic areas of the Philippine New Urban Agenda (PNUA) and the Pambansang Pabahay Para sa Pilipino (4PH) Program.
Participants from UP RI – NOAH Center Planning Component attended different sessions and activities including training events, dialogues and assemblies, and panel discussions on topics such as land-use and transport planning, green building and architecture, SDG localization, nature-based approach to sustainable development, enhanced Comprehensive Disaster Risk Assessment (CDRA) process, and biodiversity index.
The PhUF served as an avenue for the members of the UP NOAH Center Planning team to acquire new knowledge on urban and environmental planning. In a larger context, these newly acquired skills will enrich the development planning process of both the UP RI and its current and future partners.
Consistent with the trope of SDG localization, the UP RI hopes to act as a pathway for the application of cutting edge theoretical knowledge for the benefit of Filipino communities.