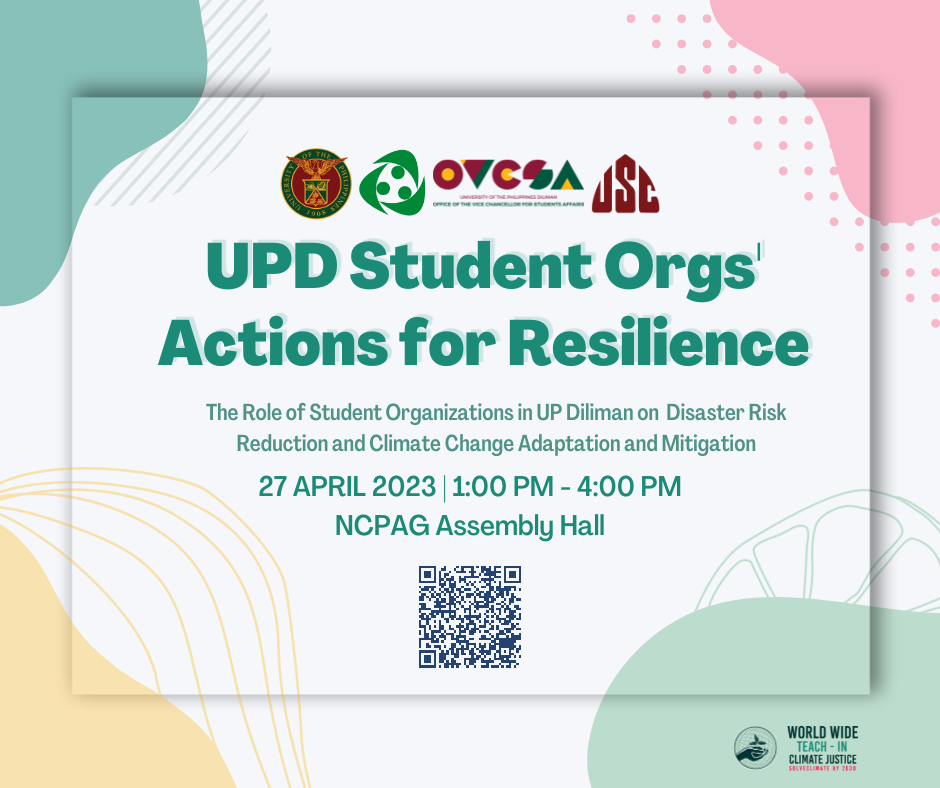 UP Resilience Institute, along with the UP Diliman Office of the Vice Chancellor for Student Affairs and the UP Diliman University Student Council, invites you to this month's UPRI Talk entitled "UPD Student Org's Actions for Resilience." The event is on April 27, 2023, 1:00 – 4:00 PM at the Assembly Hall of the UP National College of Public Administration and Governance (NCPAG) and will be livestreamed via Zoom.
The student council election is approaching and it is timely to discuss and revisit the role of students and student organizations in disaster risk reduction management and climate change adaptation and mitigation in the university (DRRM-CCAM). This talk is being conducted to ensure that DRRM-CCAM is appropriately considered in the plan of action of student councils and activities of student organizations.
Register to the event at https://bit.ly/UPD-SOAR.
This UPRI Talk is also part of the Worldwide Teach-In initiative on Climate and Justice event which focuses on creating climate and justice dialogues. Know more and find other events on climate and justice at https://bit.ly/World-Wide_Teach-In.
Posted on April 13, 2023